Archive for October, 2008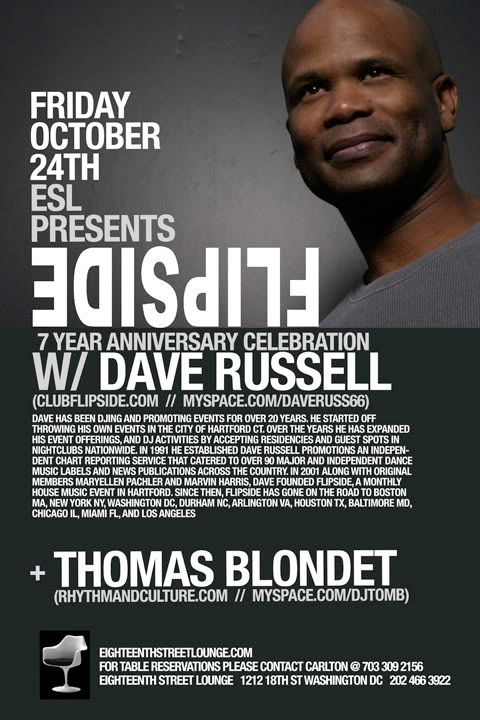 ESL History
www.eighteenthstreetlounge.com
With a wide ranging soundtrack including Italian Bossa beats, Middle Eastern melodies and Indian rhythms the Eighteenth Street Lounge quickly became a gathering place for musicians and the international crowd that call Washington DC their home. So it's not surprising that part-owner Eric Hilton and Rob Garza met a the Lounge in 1996. The two formed the duo Thievery Corporation and created the Eighteenth Street Lounge Music label.
Prior to opening the Lounge, Hilton along with fellow deejay, Farid Ali had been producing parties and various music events in Washington DC. In 1995, along with their friend and two-bit hustler, Abdoul Jewayni, they opened the Lounge. Occupying the top three floors of a turn-of-the-century mansion, located just below Dupont Circle, the Lounge is a fantastic space. All three fireplaces are still used in the winter and the deck is in full swing every summer.
While the music label has grown into it's own building nearby, the Lounge still remains true to its roots as a space owned by the deejays and solely dedicated to the eclectic music that ESL has become known for. Through the years the Lounge has never advertised or even put a sign on its door. Its success is due completely to word-of-mouth. It's possible to walk in one evening and find Thievery Corporation, Boozoo Bajou, or maybe even Federico Aubele at the decks. No nights are hyped at the Lounge and you never know who you might see.
Join FLIPSIDE Mailing List